What Conroy's tag cloud really looks like
Here is a screenshot of what the now infamous Conroy's tag cloud would look like without the "censorship" attempt: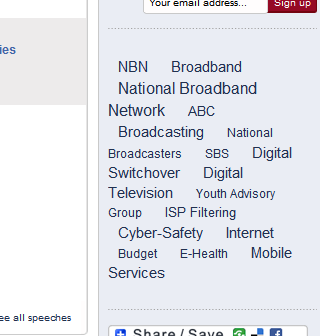 It's certainly not hugely prominent and, frankly, I am disappointed about that. It would have been way funnier if it was the biggest tag in the cloud.
Here is the greesemonkey script for those that feel inclined to verify the screenshot. It's very quicly hacked together and has the values hardcoded (which the original does too):
Update I was going to editorialize on this a bit more but forgot to do so before publishing. The whole debacle is frankly ridioculous and ironically goes to show two things:
If there is a capability to censor something, at some point it will be abused. In this case it was the censoring of the ministers site, but with a nation-wide ISP filtering scheme who is to say other unflattering pages will not suddely become "Refused Classification".
When something is to be censored, it will be done in the most half-arsed naive way. The minister's tag cloud was generated from what I suspect a hard-coded array of terms. It would have been absolutely trivial to simply remove the words "ISP Filtering", instead of matching it, which exposed the whole thing.
---
---
blog comments powered by

Disqus